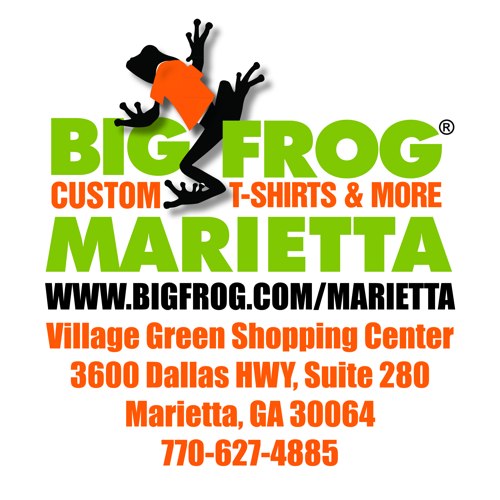 Big Frog Custom T-shirts of Marietta is a custom t-shirt printer. Our main type of printing is called Direct to Garment Printing, or DTG. In DTG, we use a high tech printer that embeds ink directly into the fibers of the shirt. This means that it will not, crack or peal like screen printing. It also allows us to used full colors at no additional charge, and this includes pictures. We do more than just t-shirts as well. We also print on long sleeve shirts, hoodies, polo shirts, as well as odds and ends like tote bags, and mouse pads. We do not stop a just DTG. We also offer screen printing, and embroidery. This means Big Frog Custom T-shirts of Marietta is your one stop shop for all you custom garment needs, whether it's one, or 10000 shirts, we can handle it all! We are really only limited to our collective imaginations. We offer no setup fees, no art charges, no minimums, and 24 hour turn around on in stock items. We also offer bulk discounts starting at just 5 shirts! We employ graphic artists whose services are free of charge. This means you can come in and work with our graphic artists, and gets what in your head onto a shirt. We take a process that can be very stressful, and not only remove the stress, but also make it fun. We back this with customer service that is second to none. Big Frog is perfect for any organization, school, or business. We always offer no setup fees, no art charges, no minimums, and 24 Hour Turnaround on in stock items.
We provide high quality custom printing to everyone. We are conveniently located on Dallas Highway in Marietta. We are right across the street from the Avenues of West Cobb, and next door to Yogli Mogli. We are located in Marietta, and close to Acworth, Hiram, Kennesaw, Powder Springs, Smyrna, and Roswell.
Not only are frogs green, but so is Big Frog Custom T-shirts! Our inks are 100% water soluble. We only use Brother DTG inks which are the only inks in the industry that are certified as eco-friendly and child safe.